Onkel C
3T WIS


| | |
| --- | --- |
| Joined: | Sat Mar 24th, 2007 |
| Location: | Bonn, Germany |
| Posts: | 508 |
| Status: | Offline |
Gruezi, let's cook.
There is a long lasting controversy about the correct preparation of the genuine "Rösti" among the Swiss people. Some prefer to use cooked potatoes, some use raw ones, some add onions, some don't, some add bacon and so on. I would say that "THE" Rösti doesn't exist. The lowest denominator ist the fact that Rösti consists of raffled potatoes and is pan-fried. Maybe the Swiss posters (are there any in here?) can share some insight on that matter.

I chose the variant of raw potatoes and salt, which can be made quick and without much hassle. The following cooking occurred in real time, as the Rösti were done when the Geschnetzeltes was.

the ingredients for tonight are: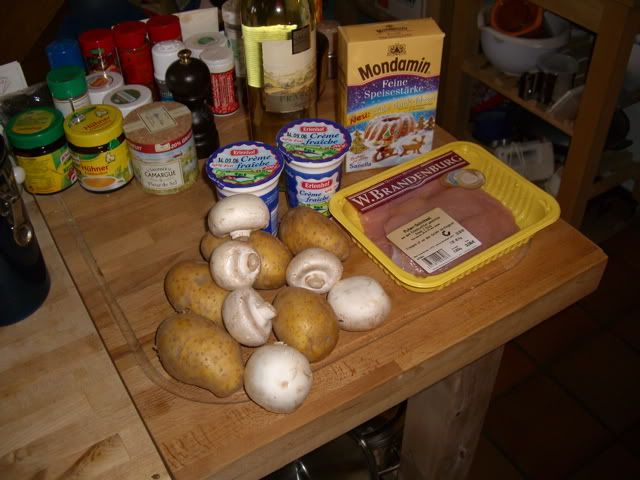 potatoes
mushrooms
white wine
turkey breast
creme fraiche
one or two small onions (not pictured)
a bit of starch

Apart from the usual utensils, you will need the following: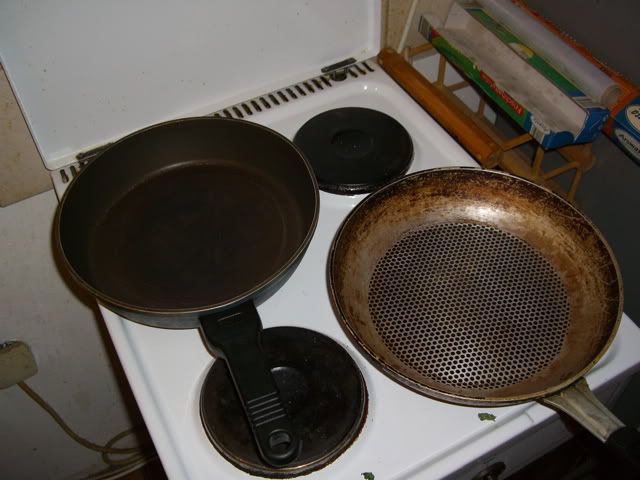 Two large pans.

Useless trivia: the oldish pan is nearly 60 years old, I inherited it from my grandmother. A sister of this pan is shown at the "Foundation Haus der Geschichte" as one of the first industrially produced goods in post-WWII Germany. It is aged to perfection, I use it mainly for slow-frying stuff.

A raffle for the potatoes: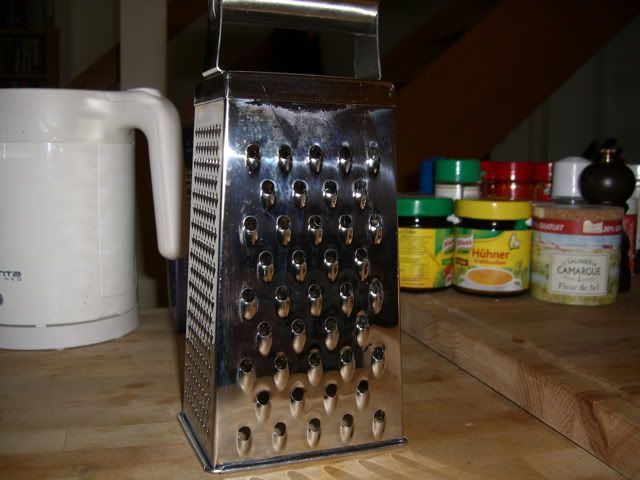 a potato peeler: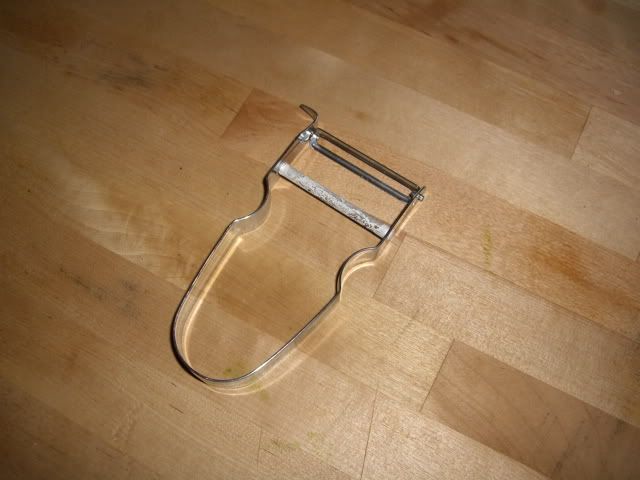 and an old newspaper: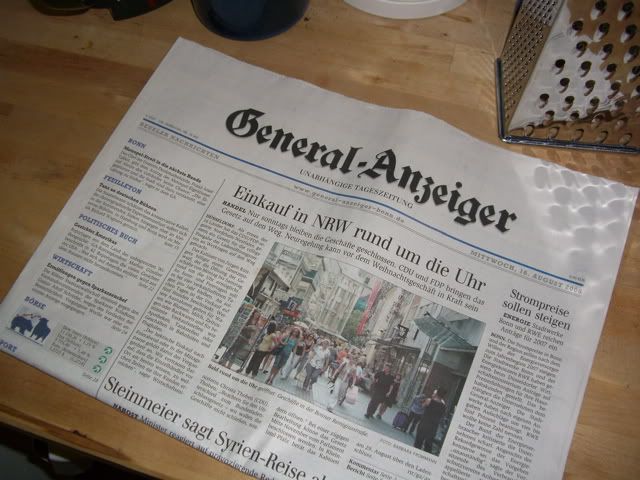 First, peel the potatoes on the newspaper (makes disposal of the peels really easy:lol ):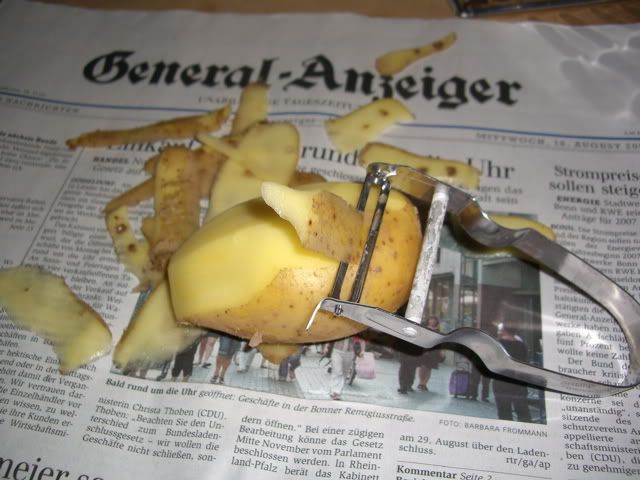 next, raffle them as big as possible:



Watch out for your fingertips and/or knuckles, or something like this can happen: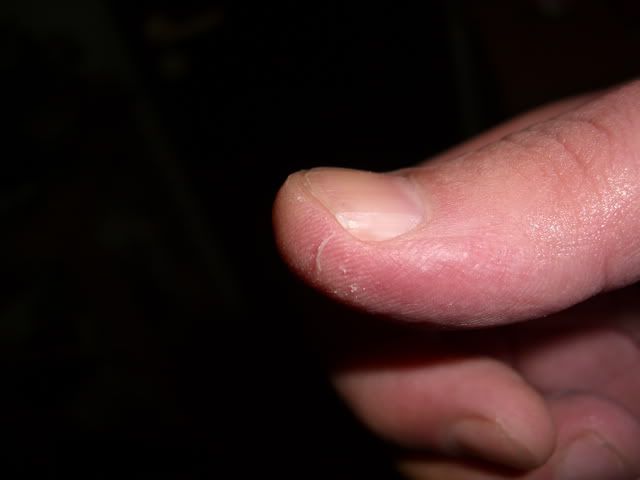 The raffled potatoes can be put in the pan as a whole, big Rösti, but it is a bitch to turn over. To make this easier, split the mass in four parts: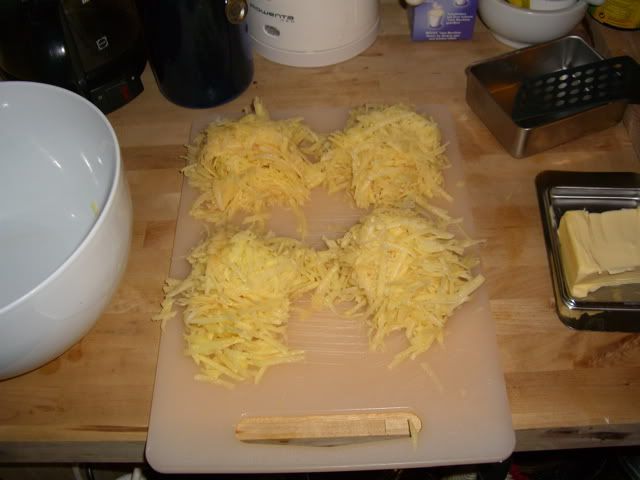 Next, put the first pan on the stove and give it max heat. To check out if the pan is heated right, use your fingers to spritz some water in the pan; if the water drops start boiling immediately, the temperature is right. Add some oil and a little piece of butter (it helps the browning of the Rösti) and carefully place the four segments in the pan: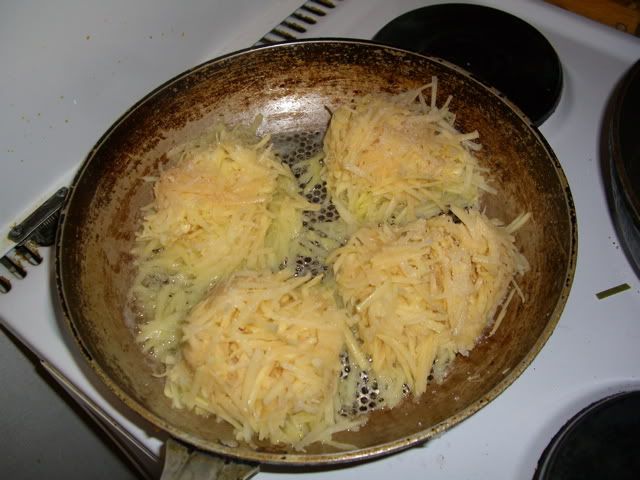 Do not press them into shape yet, just let them fry. You should now add a decent amount of salt to the rösti, potatoes kann stick away a huge amount of it. I used two spoons like this per rösti and per side: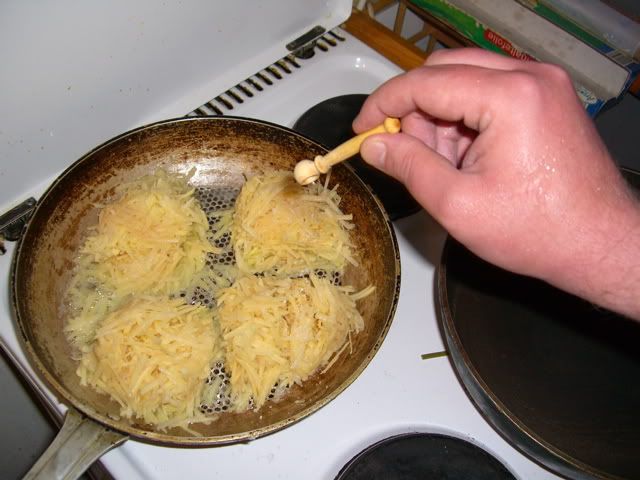 On to the "Zürcher Geschnetzeltes". Veal would be the meat of choice. Due to circumstances beyond my powers, I had to substitute the veal with turkey breast.

Cut the meat in stripes: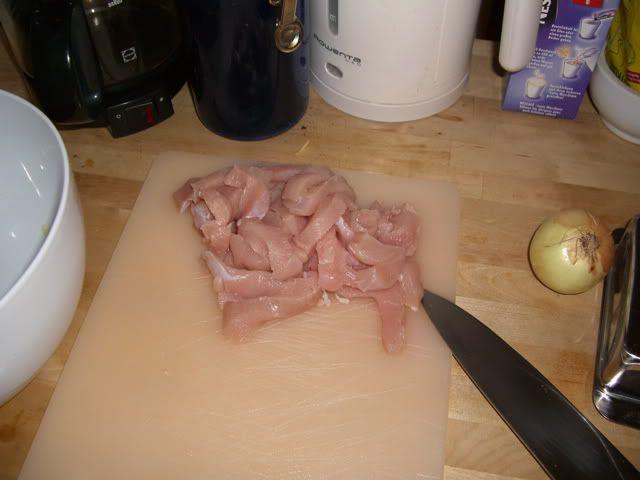 and dice one small onion in small cubes (no vanity shot today):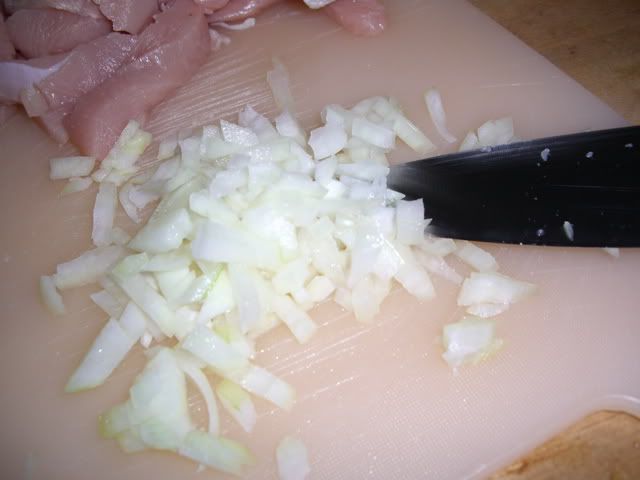 When done with this, it is time to return to the Rösti. To check if the underside is ready, just wiggle the pan: if the rösti will move, it is time to turn them over, if not, try it again in a minute.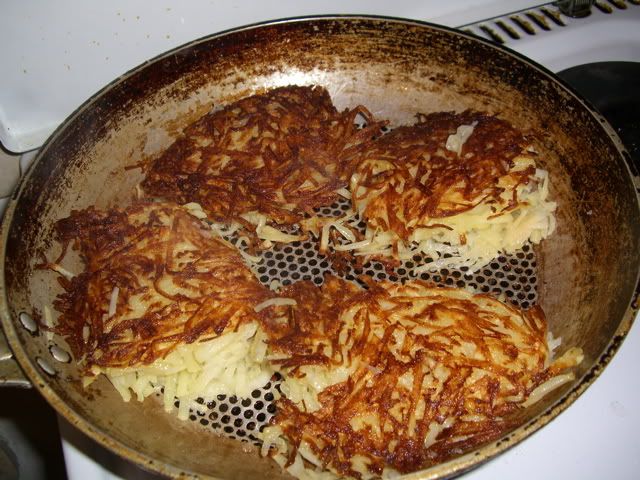 looking good. If the pan runs dry on oil, add some more from the sides of the pan. Now turn down the heat on this flame to a low setting like this: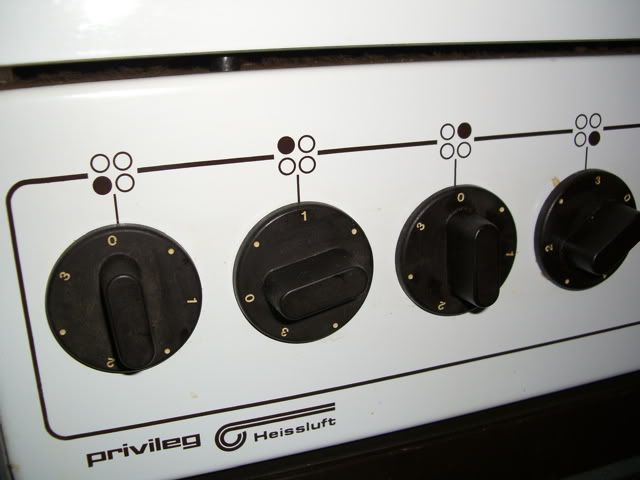 The heat of the flame will be enough for the turned Rösti to get well done when the geschnetzeltes is ready. Light another flame for the meat pan, wait till it's hot and fry the meat in two parts. This is done to keep the pan on a constant level of heat and therefore closing the pores of the meat, containing its juicyness. it also helps frying the meat in a shorter amount of total time.
When the first half of the meat (with added salt and pepper) is browned a little bit, put it out of the pan and into a bowl and keep it warm: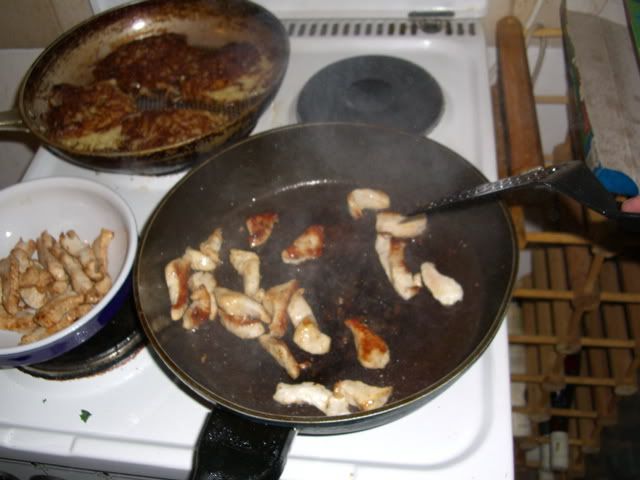 While the meat is frying, clean and slice the mushrooms as explained yesterday.
When the second half of the meat is done, also put it in the bowl.

Next, put the diced onions in the pan, stir them around for a couple seconds and add the sliced mushrooms: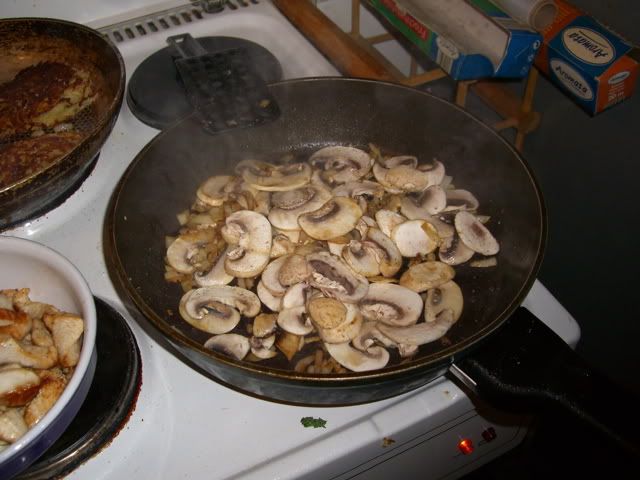 Stir-fry it for a minute, then add the (dry) white wine: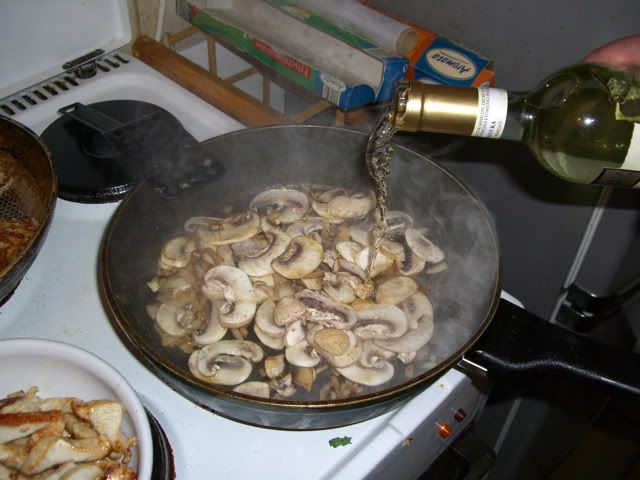 This amount should do: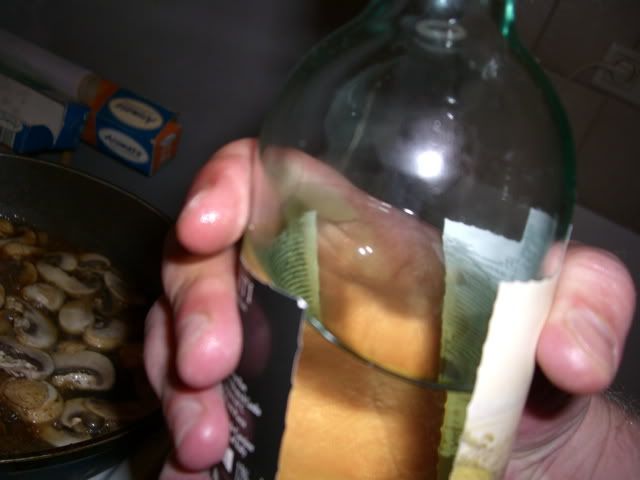 The wine will immediately unlock the roast substances produced by the meat, resulting in the following color: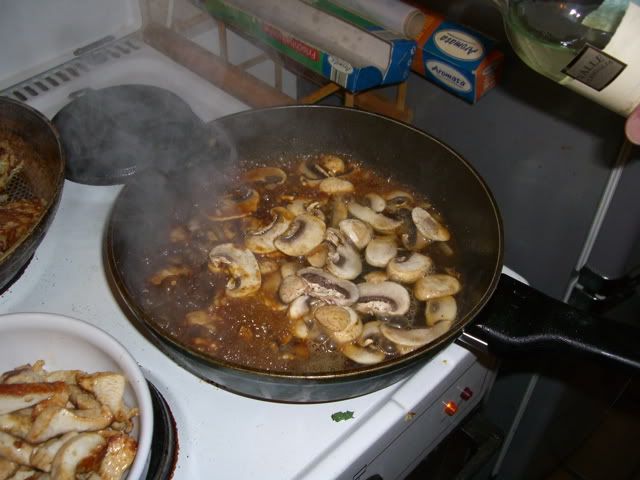 next, add the creme fraiche and turn down the heat to about half: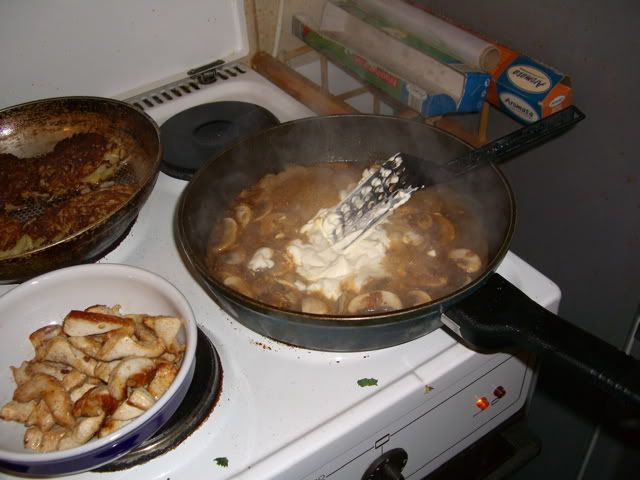 add the meat (including the juices that collected inthe bowl):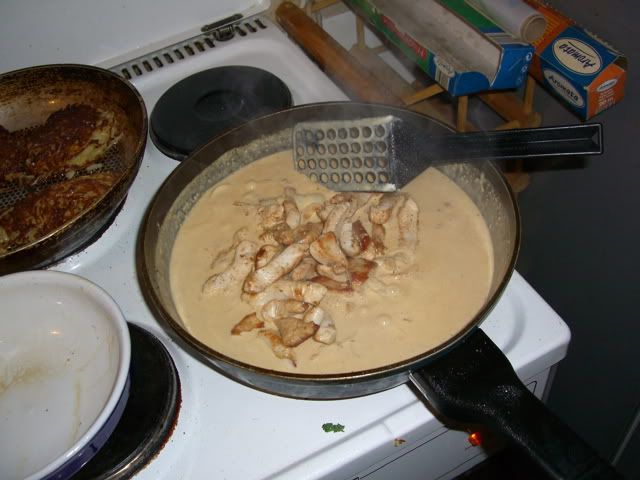 Finish line: get a small glass and put about 2 tablespoons of starch in it, then mix it with some white wine: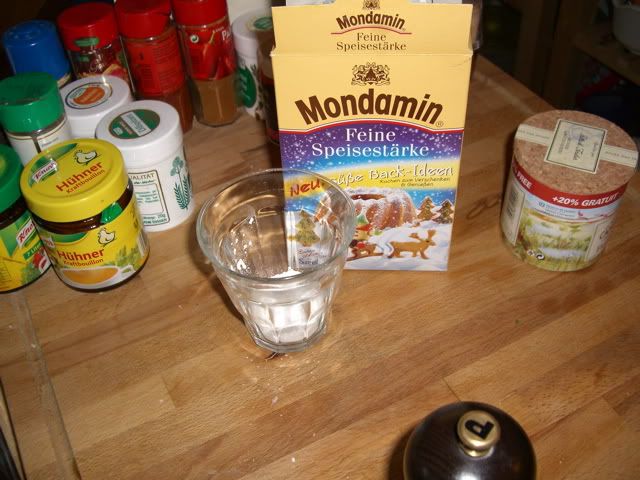 then apply SOME of the mix to the Geschnetzeltes, stir it in, let it cook once and repeat until the desired consistency of the sauce is achieved.

DONE!
put a Rösti on a plate, put some of the Geschnetzeltes on top and enjoy: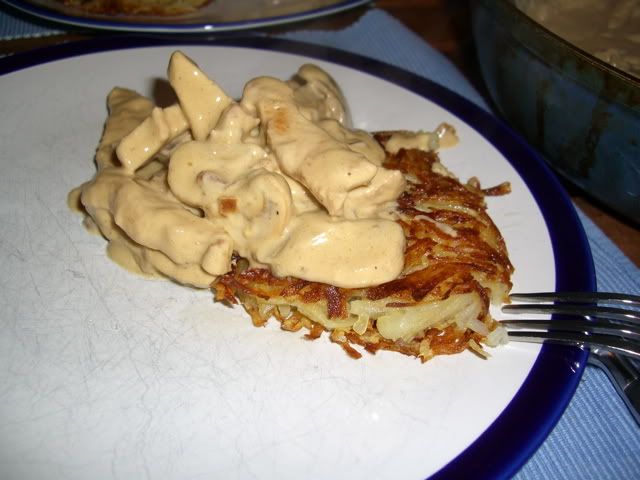 And this is how a Rösti should look like in detail. Brown and crispy-crunchy on the outside and juicy tenderness on the inside: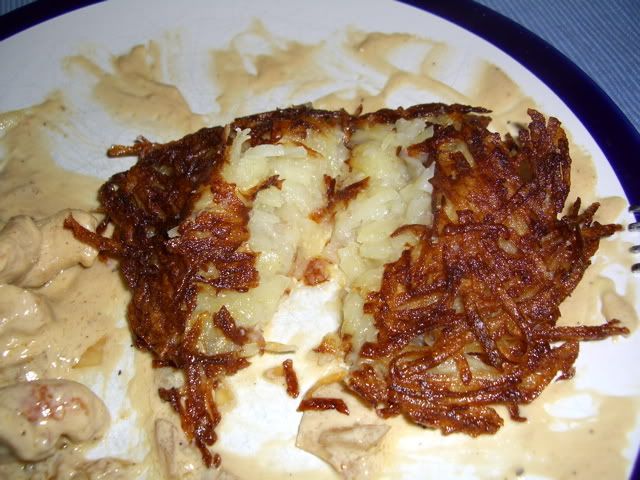 Guten Appetit from Bonn.

Last edited on Tue May 22nd, 2007 05:30 pm by Onkel C